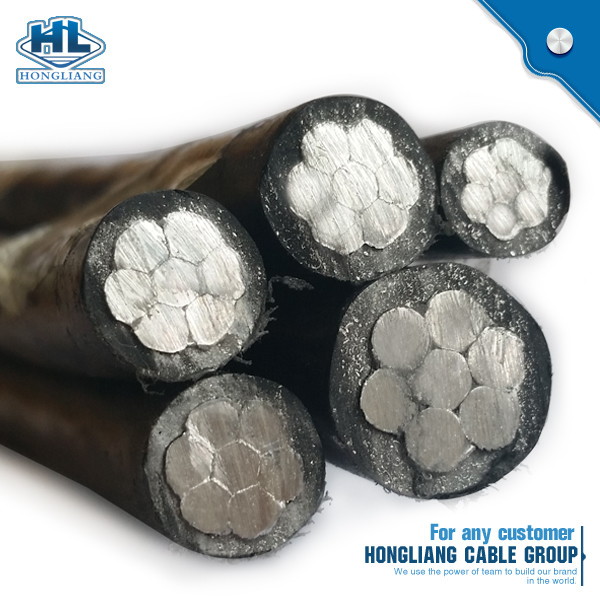 1000V Aerial Bundled Cable Service Drop Cable
1. Application
The cable as a new type aerial cable is used for transmitting electric power overhead, extensively used in rebuilding of urban and forest region electrified wire netting. It improves the safety and reliance of electrified wire netting. To be used at cotages of 600V phase-to-phase or less and at conductor temperatures not to exceed 75℃ for polyethylene insulated conductors or 90℃ for cross-liked polyethylene(XLPE) insulated conductors.
2. Specification
Concentric strand aluminum wires as phase conductor; AAAC(all aluminum alloy conductors) or ACSR(aluminum conductor steel reinforced) as messenger (Neutral) core;Phase conductor is insulated by XLPE or HDPE or PVC.
It meets or exceeds the following specifications:
1). Aluminum Wire, 1350-H19 for Electrical Purposes.
2). Aluminum Conductors, Concentric-Lay-Stranded.
3). Aluminum Conductor, Concentric-Lay-Stranded, Coated Steel Reinforced (ACSR)
4). Concentric-Lay-Stranded 6201-T81 Conductors.
5). Compressed Round Stranded Aluminum Conductors Using Single Input Wire.
It meets or exceeds all applicable requirements of ANSI/ICEA S-76-474
3. Using feature:
1) The max long-term operating temperature of cable conductor(cable having supporting structure):
a) XLPE insulation :90°C
b) HDPE insulated 75°C
2) When short circuit (the Max. lasting time is not over 5 seconds), the Max.temperature of the cable:
a)XLPE insulated: 250°C
b)HDPE insulated 150°C
3) When laying, the temperature should not be lower than -20oC
4) The permitted bend radius should not be less than the diameter of cylinder that had been used for the bend testing.
5) Cables installed in air;
6) Ambient temperature:40oC
7) Intensity of solar radiation:1000w/m2
We can also manufacture ABC cable according to customer's special requirements.